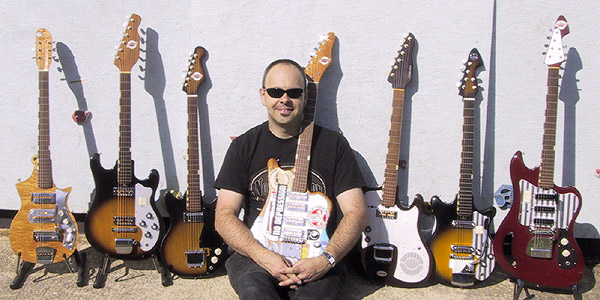 My Teisco family at its zenith, in rough chronological order.
left to right: J-5 ('59/'60), WG-2L (1963), E-100 (1964), me & my modified SS-4L (196?), TRG-1 (1964), MJ-2L (1965), TG-64 (1965)
Sadly due to finaces I'm now down to just the J-5 which isn't in this picture (the last one on this page) and the one I'm holding above.
SS-4L, 196?
This was my first Teisco and in fact my first electric guitar - and yes, I still have it and it gets played at gigs regularly! I bought it from a guy I was working with at the time back in the early eighties when it was already well over ten years old. It was my first electric guitar and I paid 15 for it. It came in a flimsy thick green rectangular cardboard case (probably the original) which had a compartment for the guitar and one for accessories. The guitar was maroon all over with four huge chrome pickups, chrome over and under scratchplates with loads of rocker switches and thumb wheels on the plate above the strings which kept getting hit whenever I played. You could select any combination of pick ups and control the volume between pairs. Not liking the colours or the switch arrangement I decided to make some drastic changes which I now regret in part.
First of all I stripped everything down then used an industrial paint stripper to take the paint off the body, neck and headstock (one of my regrets). I then decided I wanted more of a cutaway so I took a saw to the body and made one! I made a new scratchplate from two sheets of formica stuck back to back and fitted mini toggle switches and volume pots. Because of the horrendous intonation I also fitted a new bridge with adjustable saddles. Fortunately I had the sense to keep the pickups which still make an amazing sound! I also cut the huge round swirl off the headstock (another regret) before varnishing it all and reassembling. It looks OK but I wish I hadn't been so hasty to make some of the changes. I have added numerous stickers over the years and it's now a bit more weathered. I have two headstock logos won on eBay sent over from the USA - one from Dave in Covington, Virginia and one from Ed in Upton, Massachusetts. I have put one of them in its rightful place on the headstock to let everyone know that it's a Teisco.
The model is an SS-4L but was probably imported into the UK by Rose-Morris and rebadged under the 'Top Twenty' brand, model 'Orbit 4'. For a picture of a decent example of an untainted SS-4L see the 'Timeline' page.
MJ-2L (serial #178627) 1965
This one came from Melmusic in Melbourne, Australia. They are a fantastic bunch of guys and just a little crazy by the looks of their website - go and have a look! It's an MJ-2L in beautiful condition and still in its '60s hardcase! You can see it's not been used much. Notice the Teisco 'swan' logo. I don't think this one ever made it to the USA - the logos used in the USA by this time ('65 or soon after) were the 'Del Ray' white-plates. I think it was exported directly to Oz or maybe even purchased originally in Japan and brought over. Here are a few photos. There are a few wiring photos over on the 'Technical' page.
E-100 1964
I got this one on Ebay. It was shipped over from Farmhouse Guitars in Plano, Texas. Kerry tells me they found it at a second-hand/thrift store in Lewisville, Texas.
TRG-1 (serial #381.14870) 1964
This one (a Teisco made Silvertone TRG-1 serial # 381.14870) came from Laurel, Montana in the USA and was bought from the very helpful Kit at Vintage Guitars Xtreme.
The TSG-1 is quite unique because of its built-in amp and speaker. The system wasn't working on this particular guitar but I found a circuit diagram and fixed it. Visit the 'Tech' page - there's a schematic so that if any of you out there ever need to fix one you'll have something to refer to. Here is a photo of it taken from the Vintage Guitars Xtreme website. It looks black and white but it's actually a deep chocolate brown with a frosted metal pick guard. There are some wiring photos over on the 'Technical' page.
J-5, 1959/60
A real beauty and a slice of Japanese guitar history. The J-5 is one of Teisco's earliest solidbodies and was made to emulate the shape of the then-new Les Paul. It came to me via eBay from Mathew in Burbank California, still in its battered originaI case.
WG-2L, 1963
A chunky workhorse, this one! Not one of Teisco's prettiest but boy do those pickups burn! Note the ugly 'Bizzaro' squared-off headstock - typical of the period. Another eBay bargain, it came with replacement metal tuners but I managed to find some original plastic ones and restored it. Thanks to Dawn Wyatt in Westminster, Maryland, USA.
TG-64 (ET-320), 1965
This sought-after three pick-up model is as used by Ry Cooder, the heavy body (made a bit lighter by the wood removed to make the monkey-grip) gives a superb solid sound! I bought it off Jim Calvin in Mt. Juliet, one of Tennessee's finest banjo and mandolin players who has played with many of Nashville's greats.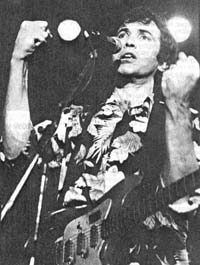 Cooder with his newer TG-64
J-5, 195?
A real rat of a J-5 but less than $100 on eBay! You won't get too many other complete 50 year old guitars for that price! The selector knob was missing so I added the white chicken knob off an old 50s radio. It looks in keeping. I thought about restoring it then decided against it - this is one to record with and not worry too much if it gets the occasional bump. Once I'd made that decision I removed the old selector pot and replaced it with a three way selector switch. Like the other J-5 above it had a weird way of going from front to back pick-up using a pot rather than a switch. This is the Teisco I use the most at gigs. Hear it on these two tracks - listen out for the slide guitar: Sons of the Delta - People Get Ready, Sons of the Delta - When Can I Change My Clothes.
One day, when I win the lottery or break into Fort Knox, I'll buy back the ones I had to sell and a few more besides.